People Involved in the Construction of the Onga River Pumping Station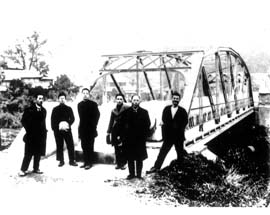 The Onga River Pumping Station was completed in 1910 on the right bank of the Onga River in the then Sokoino Village, Onga County, to obtain water from the Onga River as a new water source. The construction was done in conjunction with the first stage of an expansion project to double the iron and steel production output at the Yawata Steel Works. The design supervision was in the hands of Professor Nakajima Eiji at the Tokyo Imperial University, known as the father of Japan's modern water services. Kamei Shigemaro, who oversaw water supply projects in Yokohama, Hakodate, Tokyo, and other areas, handled the surveying and construction at the time. The design of the pumping station building bears the signature of Funahashi Kiichi, who was involved in the construction of the Nara Imperial Museum (present day Nara National Museum) and the Akasaka Palace State Guest House.

Boilers and Pumps Imported from England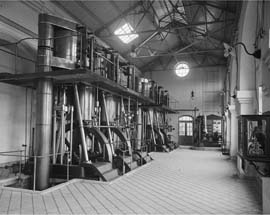 The boiler installed in the Onga River Pumping Station was fabricated by the Babcock & Wilcox Company, which had the majority of the market share during the Meiji Period. The Davey Company produced 3-stage expansion engine pumps for water service facilities. The Miike Coal Mine, one of the sites of the Japan's Meiji Industrial Revolution, installed a Davey pump for pumping water in its mine pits, which served to keep mining operations running smoothly. It is presumed that large pumps which earned a solid track record overseas were selected to be utilized in important facilities for feeding industrial water which is critical to iron and steel making.

Supplying Drinking Water to Kitakyushu Region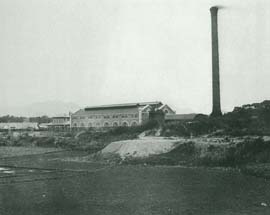 Industrial water was not only fed to the Yawata Steel Works, but was also supplied to waterworks in the then Wakamatsu-town, Yahata City, and Tobata City, playing a large role in enhancing the urban sanitation infrastructure. Also, it is almost the largest existing blick pumping station in the Meiji Period in Japan.